Solar Eclipse Wedding
Getting married in the dark creates gorgeous wedding photos and can make for a beautiful ceremony. However, not everyone is a fan of getting married at night. Getting married during a solar eclipse is one way to get married in the dark during the middle of the day. While the eclipse makes for a beautifully planned wedding, consider taking this special occasion to celebrate an engagement or even a great opportunity to elope!
What is a Solar Eclipse and Why is it Special?
"A total solar eclipse is only visible from a small area on Earth. The people who see the total eclipse are in the center of the moon's shadow when it hits Earth. The sky becomes very dark, as if it were night. For a total eclipse to take place, the sun, moon and Earth must be in a direct line." - NASA
The last total solar eclipse that took place in the St. Louis area was July 7th, 1442!
On August 21st the moon will pass in front of the sun creating a total blackout for about two minutes. Be sure to check out NASA's website, link here, to see what time the eclipse is predicted to take place in your town! Below we have provided a map from NASA of the predicted times for Missouri.
Safety First
If you are hosting or attending an event to watch the solar eclipse of 2017, it is important to ensure you are taking care of yourself and your guests. To be sure you're safe, purchase eclipse glasses to wear. Click the link provided here to view NASA's flyer on Eclipse Eyeglass Safety!
"Looking directly at the sun is unsafe except during the brief total phase of a solar eclipse ("totality"), when the moon entirely blocks the sun's bright face, which will happen only within the narrow path of totality. The only safe way to look directly at the uneclipsed or partially eclipsed sun is through special-purpose solar filters, such as "eclipse glasses" or hand-held solar viewers. Homemade filters or ordinary sunglasses, even very dark ones, are not safe for looking at the sun." - NASA
Once the moon has fully covered the sun and your area is in the "totality" phase, you can safely remove your glasses to view the beautiful eclipse.
Want to find out some other Eclipse events going on in Columbia, MO? We've got you covered!
When: August 21st | 11:00am-8:00pm
Where: Corporate Lake
Free Event!
Food Trucks, Local Artisans, Beer Garden, Games, Fireworks, Hot Air Balloon, Live Music, Contests, and Restaurants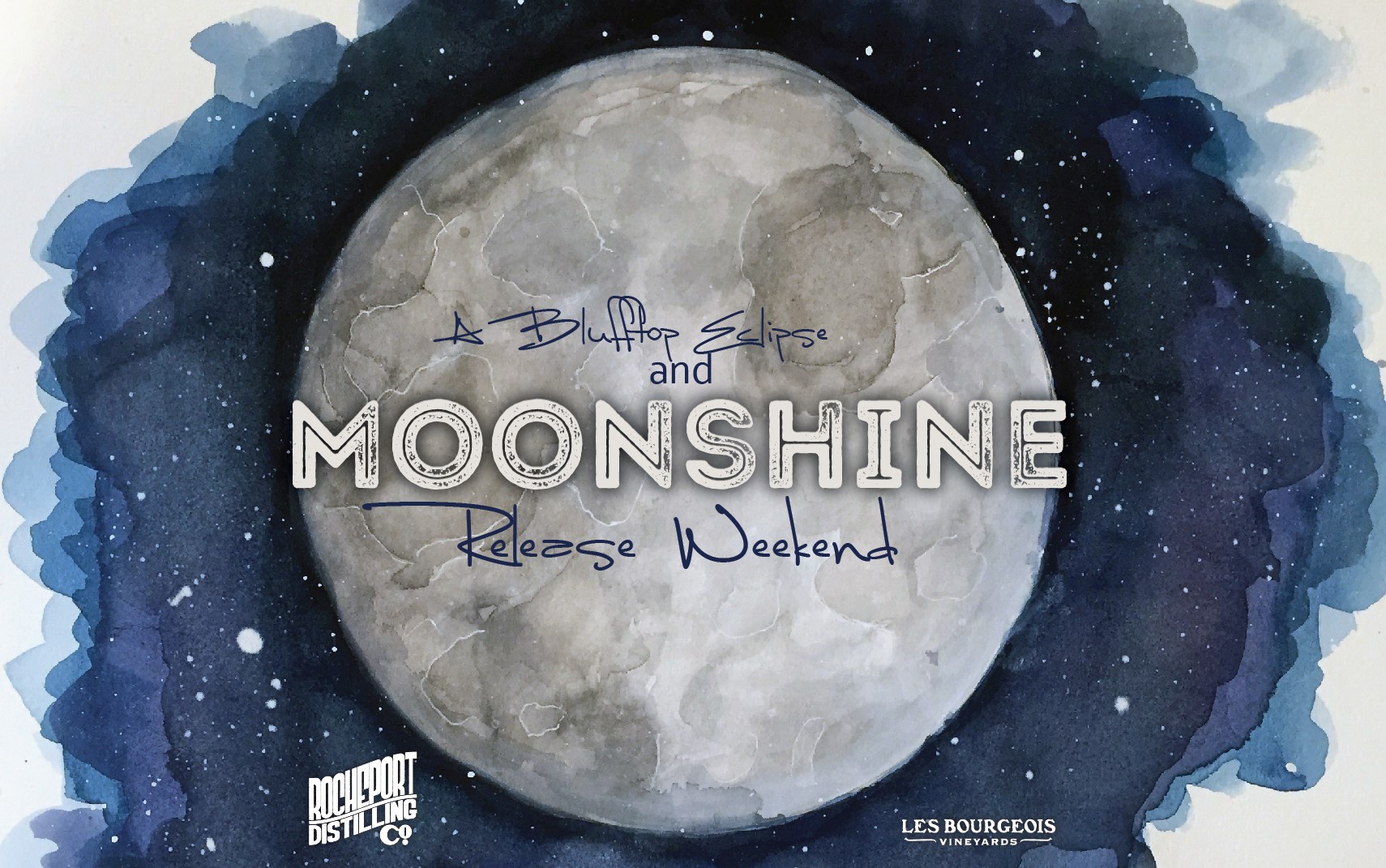 A Blufftop Eclipse & Moonshine Release
When: August 19th - August 21st
Where: Les Bourgeois A-Frame
Enjoy a weekend long event to celebrate the eclipse! A new moonshine, cocktail samples, live music, and extended menu options at the A-Frame.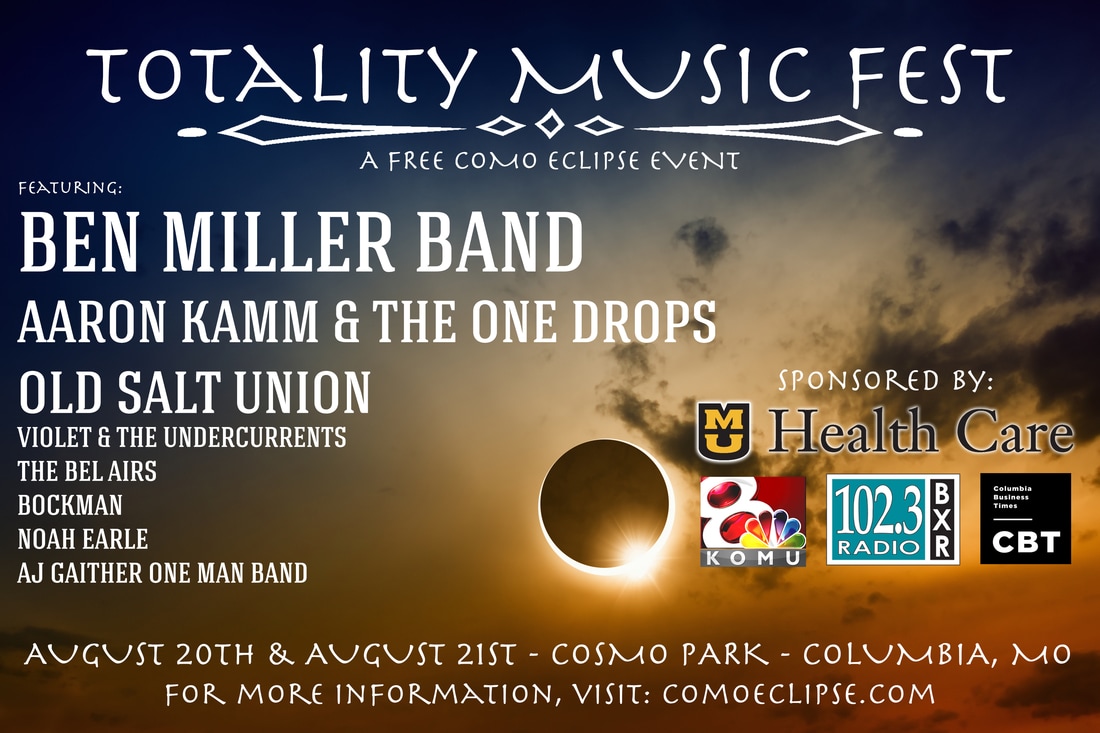 When: August 20th & 21st
Where: Cosmo park
Free Event!
Live Music, Beer Garden, Bicycle Stunt Show
Total Solar Eclipse Golf Tournament
When: August 21st | 11:00am - 4:00pm
Where: Country Club of Missouri
"Tee off to benefit the Boy Scouts of America Great Rivers Council and experience the Total Solar Eclipse from the Country Club of Missouri."
When: August 20th & 21st | 12:00pm - 3:00pm
Where: Rocheport City Park
Free Event!
Live Music, Vendors, Craft Beer Garden, Historic Walking Tours
Total Eclipse of the Heart Celebration
When: August 21st
Where: Logboat Brewing Co.
Special Beer Releases, Music, Food, and Much More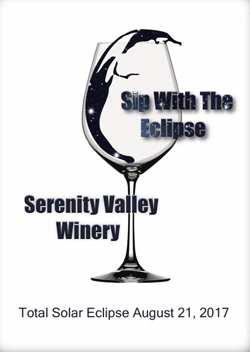 August 19 - 12-4pm Backyard BBQ Competition. Will post details on Facebook soon with Vendors. $10/attendance.
August 20 - 7-10pm "Open Road" performs and we have 10 hot air balloons for a Balloon Glow (no rides), Food Trucks, Vendors and more... $5.00 per person.
August 21 - All Day - NO Entry Fee and FREE parking!!! Food Trucks, DJ, Yard Game, Vendors
Eclipse Camping - Tents $15/night (no showers) ; Self-contained RV $35/night
- Taylor Brickey | Marketing & Planning Assistant